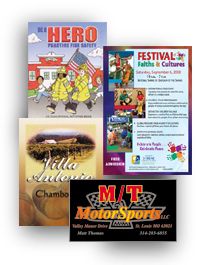 FORMS MANAGEMENT and YOUR EXCLUSIVE CUSTOM PORTAL
Store all your forms and marketing materials in one convenient location. Forms meaning, brochures, letterheads, envelopes, business cards and standard frequently used office forms.
YOUR Document Library inside YOUR password protected, custom web portal will offer UNIT PRICE CALCULATION, INVENTORY ACCESS, KEY REORDER POINTS, VIEWABLE DOCUMENT THUMBNAILS, DOWNLOADABLE PDF FILES for review, all the features a true forms management option should be.
Log in upper right corner as demo (USERNAME) and 1demo1 (PASSWORD). Click on Document Library in the left menu. Take a free peek and contact us about Your FREE portal.
NEWSLETTERS, BROCHURES, SPECIALTY ITEMS, INVITATIONS
We at M.O.W, have celebrated our 25th anniversary of assisting developing companies build strong brands through high end corporate identity full color printing for Collinsville and the surrounding area. We assist you in establishing your identity with our proven technology and the ability to utilize creative processes. We provide value added products or services such as newsletters, brochures, letterheads and envelopes, and forms management, to assist you in communicating with your clients, from a tastefully produced full color brochure, to a complex multi part, multi color marketing package.
Simply, our mission is to simplify your printing experience. To learn more about the many products and services we offer, please contact one of our representatives.
Highlighted Products & Services

















Corporate Indentity Packages
A complete package of letterhead, envelopes and business cards. Printed from your design or designed by our staff to meet your taste and budget.

Brochures, newsletters and signage are also available to develop your brand.






Full Color Brochures
Full color brochures from your PDF. Delivered flat or folded to your specifications.




Full color newsletters
Specializing in full color 4 page newsletters. Folded to accommodate mailing specifications, letter, half & half again, etc.
Contact us at info@mowprinting.com or phone 618.345.5525





Additional Services Available
File Archival Your firms art and graphic files are stored on M.O.W's secure in-house server for immediate recall for revision or uploading to your site.

Forms Management Custom Customer Portals developed exclusively for your firm. Forms management and inventory control for added value.